Corin on mainstreet is on a mission!
---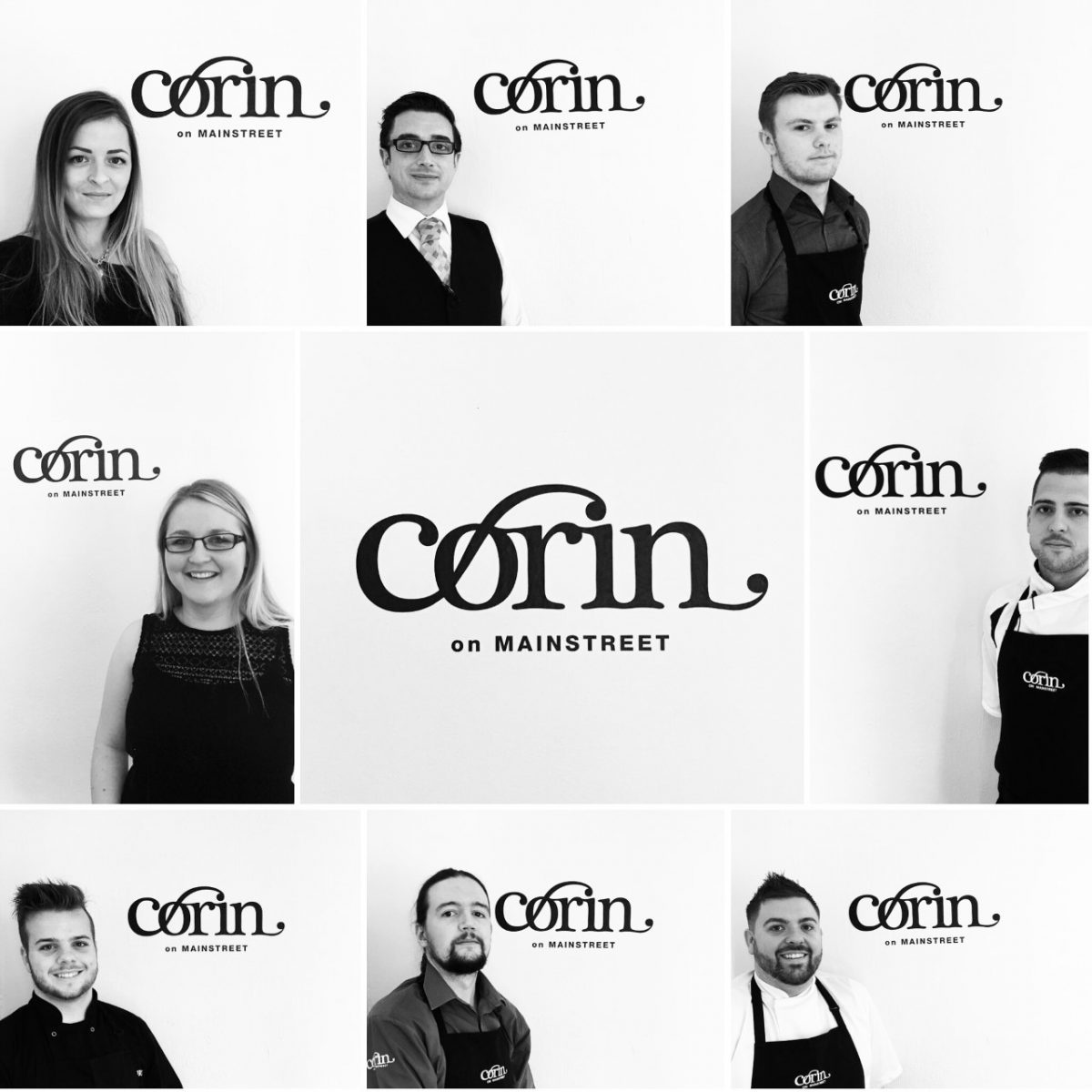 Corin on mainstreet prides itself in serving the best of local and fresh produce which coincides with the seasonal A La Carte created by Head Chef Andy Archer. Combined with the eclectic wine list put together by in house sommelier, a high standard of customer service driven by Manageress Erin and an offering of extreme passion from the whole team, Corin on mainstreet is on a mission.
Mission Statement
To be passionate in all that Corin on mainstreet provides and delivers; seasonal menus, wine, cocktails, events as well as customer service.
To be open, honest and proud of our local produce and suppliers by purposefully mentioning and showcasing suppliers throughout our menus and online presence. Providing dishes of high-end bistro style fashion with consistency, flavour and of course, creative flair.
To always facilitate and cater for dietary requirements by having vegetarian and gluten free options on the menu, vegan options are prepared and made to order.
To demonstrate warmth, understanding and displaying the correct attitude to deliver consistent exceptional customer service. Going above and beyond what the clientele expect to make sure they leave feeling content and excited for their next visit.
A promise to be transparent in all that is delivered through both our online and social media presence.
Now to introduce the team that are here to make the above statement THEIR mission.
Manageress: Erin
Erin has now settled into her role as manager, making the location on Main Street her home and looking forward to the challenges ahead (which the hospitality industry is of course, full of). In the next year she would like Corin to be up there with the best restaurants in County Down. With high hopes Erin has set out personal and team targets to get Corin on the map. Her objectives are simple; for people to see the restaurant as a unique and enjoyable experience. 
"I want to provide a professional, yet homely style of hospitality that makes all guests feel safe, welcome and happy to be here."
Ideal meal: Chicken, mash and jus- you just can't beat honest home cooking!
Assistant Manager: Elizabeth
Elizabeth assists Erin in the day to day running of the business, sharing the management duties and responsibilities. Her favourite part of the job is the customers,
"Reading a customer and making that initial connection is extremely important to me, I want to show that I care about their experience. I give customers what I would expect when I go out to dine".
Ideal meal: My ideal meal would definitely be soup to start followed by something comforting, I love seafood and every fish.
Sommelier: Charlie
"The rules are, there are no rules, what fits for one may not fit for another."
"…When deciding on a wine it's about exploring, tasting and finding what works for you. Exploration is key and we must remember that not everyone shares the same palate". Wise words from the sommelier himself.
Charlie has a passion and knowledge for all things wine, which shines through the vast range available by the glass and bottle in Corin's wine list. An exciting opportunity to use new technologies has allowed Corin to offer the 'try before you buy' service which fits in with Charlie's statement above, "…what fits for one may not fit for another." Have a taste of multiple wines to find the right one for you. Charlie is excited for the new projects coming up, including the introduction of the Corin Wine Club.
Favourite wine region: Bordeaux or Burgundy
A personal recommendation from the current wine list: French wine; (Red) Pezat, Bordeaux Superieur 2012, Merlot. (White) Xavier Vignon, Lili. Sauvignon/Grenache/Picpoul. Rhone/Languedoc
Bartender: Theo
Our  monkey puzzle bar is manned by the one and only Theo. His favourite drink to make from our list and in general is the (Jawbox) Bramble. He aspires to make a signature cocktail, we did ask what it would be but it's all very hush hush. Perhaps when you're in ask him to surprise you!
A recommendation from the current cocktail list: Are you sweet or sour? Sweet: Bramble Sour: Negroni
Waiter: Ross 
Introducing one of our part time members of staff, Ross, who is currently studying Music Technology. The hospitality industry offers a wealth of life experience and helps build positive personal qualities. A great part time job that teaches you to conduct yourself in a professional manner, learning that customer rapport and service is crucial and constantly learning new menu items and dishes, because lets face it, we never stop learning no matter what occupation we hold.  (We're all a fan of Ross)
Ideal meal: Medium rare steak
Head Chef: Andy
Andy has had over 10 years experience as a chef and has perfected his own style of modern, classic food with a twist. He is excited to help create and build a new reputation and brand for Corin on mainstreet,
"We aren't here to pretend to be something we're not, we are not doing the fine dining Corin on High Street was known for. Our vision is to have Corin on mainstreet serve high end bistro style dishes with a focus on local produce and suppliers."
From speaking with and getting to know Andy it is plain to see that he is extremely passionate and puts a lot of emphasis on local, a theme which is set to evolve come the New Year. (*Queue eager anticipation for New Year menus here*)
Idea meal: food that hasn't been played with too much- flavoursome and simple.
Sous Chef: Ross
Ross has also had over 10 years experience as a chef, he describes his style as contemporary and quirky and is always ready to experiment in the kitchen (I have personally tried some of these creations and they are MARVELLOUS).
"I'm like a mad scientist, I like to experiment with my food."
Ross goes onto describe himself as being an all rounder in the kitchen but his specialties would definitely be fish dishes and desserts.
Ideal meal: Simple; fresh fish, from the boat to the plate.
Senior Chef De Partie: Jordan
Jordan, the newest member of the Corin kitchen team, plans to maintain a rosette standard from his previous training. The young chef is keen to start grafting and working his way up in the kitchen.
"I want to refine what I have learnt and am looking forward to putting it into practice here."
With Jordan's natural flair for attention to detail and awareness of high standards he is a great addition to the kitchen team. His aim is to eventually be plating dishes and further developing his own style.
Ideal meal:  Risotto with truffle and mushroom
Last but by no means least, Chef, Doctor and Creative Director Philip McCrea is the driving force behind Corin on mainstreet. He flies in (literally) for the weekly or fortnightly check up, depending on his hectic schedule (he really is the man that does it all).
 His understanding of the team has allowed him to pass the reins onto our Head Chef and Manageress duo, who know the North Down restaurant scene well. His one ask was that the only non-local menu that Corin provides, the Corin Cheeseboard, remained (and he wasn't wrong). 
Our message is simple: We are here to deliver.
#onamission
By Zoe Latimer