Felipe's 'make it at home' Christmas Cocktail
---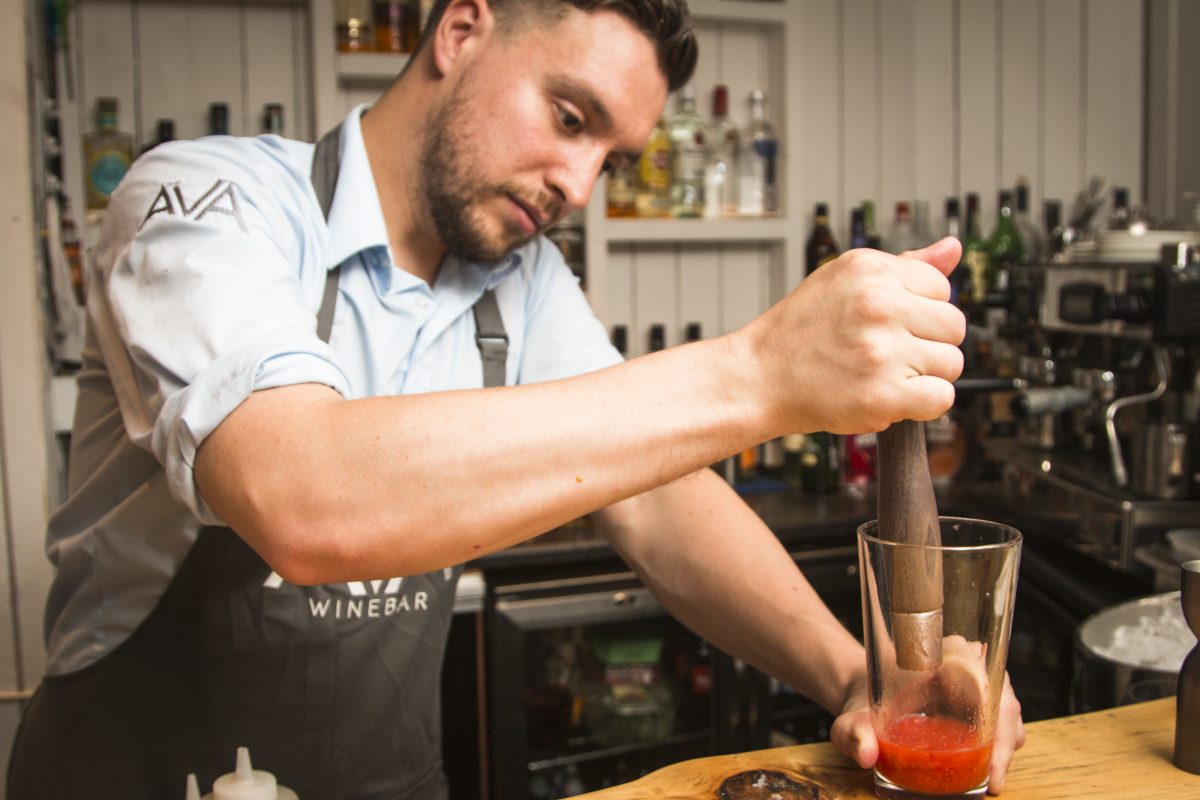 Are you entertaining over the Festive Season? Fancy dazzling your guests with a professional touch but fear of missing out because you don't want to be stuck in the kitchen?
Our resident Mixologist and Bar Manager Felipe is on hand to ensure you are a cocktail and host god/goddess with the perfect Christmas serve! And guess what? We guarantee you will NOT be stuck in the kitchen.
So Felipe, why this cocktail? Was there any inspiration behind your choice?
"One of my favourite times of the year is Christmas, especially my mums homemade crumble. This dessert is enjoyed every year by all the family and I thought it would be a fitting tribute to make this gin inspired cocktail for all the years of her hard work filling our belly's with this delicious dessert."
Perfect choice, who doesn't love their mums homemade crumble! What gin will we be using today?
"My mum is from Portobello in Scotland, so it is the perfect opportunity to showcase the Scottish gin, Caorunn. We like to keep things simple, I like to keep that ethos when making drinks. So this is a cocktail that can easily be recreated and enjoyed without a lot of prep work."
You heard the man, simple and not a lot of prep work! Get ready to tap into your guests Christmas memories with this walk down memory lane… An apple crumble lover and gin enthusiasts dream.
---
Caorunn Crumble
A smell of Christmas as soon as you pick up the glass. The sharp burst of refreshing apple and citrus is followed by the sweet apple and cinnamon aftertaste.
Serves: 1          Prep time: 2-3 minutes
 Allergies: Cinnamon, Fruits, Dairy *for a dairy free alternative do not add egg whites
---
Ingredients
50ml Caorunn Gin
5ml Disaronno (Amaretto)
25ml Lemon Juice
25ml Apple Juice
25ml Apple and Cinnamon Tea Syrup
Dash Egg White
Ground Cinnamon
Crumble; this can be a biscuit of your choice, for example a digestive or shortbread
Ice
---
Apple & cinnamon tea syrup
Prep Work
You may be wondering where you can buy or how you can make the apple and cinnamon tea syrup mentioned in the ingredients above. Surprisingly you do not have to be  a mixologist to make your very own homemade syrups.
If you have made a sugar syrup before this process will be extremely familiar, just add your teabags.
Serves: 1.5 cup          Cook time: 3-5 minutes
Ingredients
2 cups caster or granulated sugar
1 cup water
Apple & Cinnamon tea bags x2
Method
In a sauce pan over medium heat bring cold water, sugar and teabags to the boil.
Once brought to the boil, turn the heat to low and stir constantly until the sugar dissolves completely and the mixture is clear.
N.B The longer your boil the mixture the thicker your syrup will be when it cools.
Once your syrup is made the making of each cocktail will be quick, keep your sugar syrup at room temperature.
---
Cocktail
Method
Pour the measure of Caorunn Gin and Disaronno into the cocktail shaker.
Add your apple & cinnamon tea syrup, lemon juice and apple juice.
Add ice and egg white, Shake well until the shaker is ice cold.  Strain into a martini glass (for a smoother finish strain your ingredients twice) and garnish with cinnamon dust and crumble for texture.
The finished product: The result is a smell of Christmas as soon as you pick up the glass. A sharp burst of refreshing apple and citrus followed by the sweet apple and cinnamon aftertaste.

---
Pairing options
The perfect dessert cocktail or dessert accompaniment. Pair with a homemade (or shop bought 😉 ) apple crumble or serve on its own.
---
If you have enjoyed making Felipe's recipe we would love to hear from you. Please share or tag us on Instagram, Facebook, Twitter, send us an email or leave a comment on this post and make sure to use the hashtag #theavablogger to be featured! Click any of the links below to visit our social media pages.