Part 2: How to create November's Gin Fusion of the month
---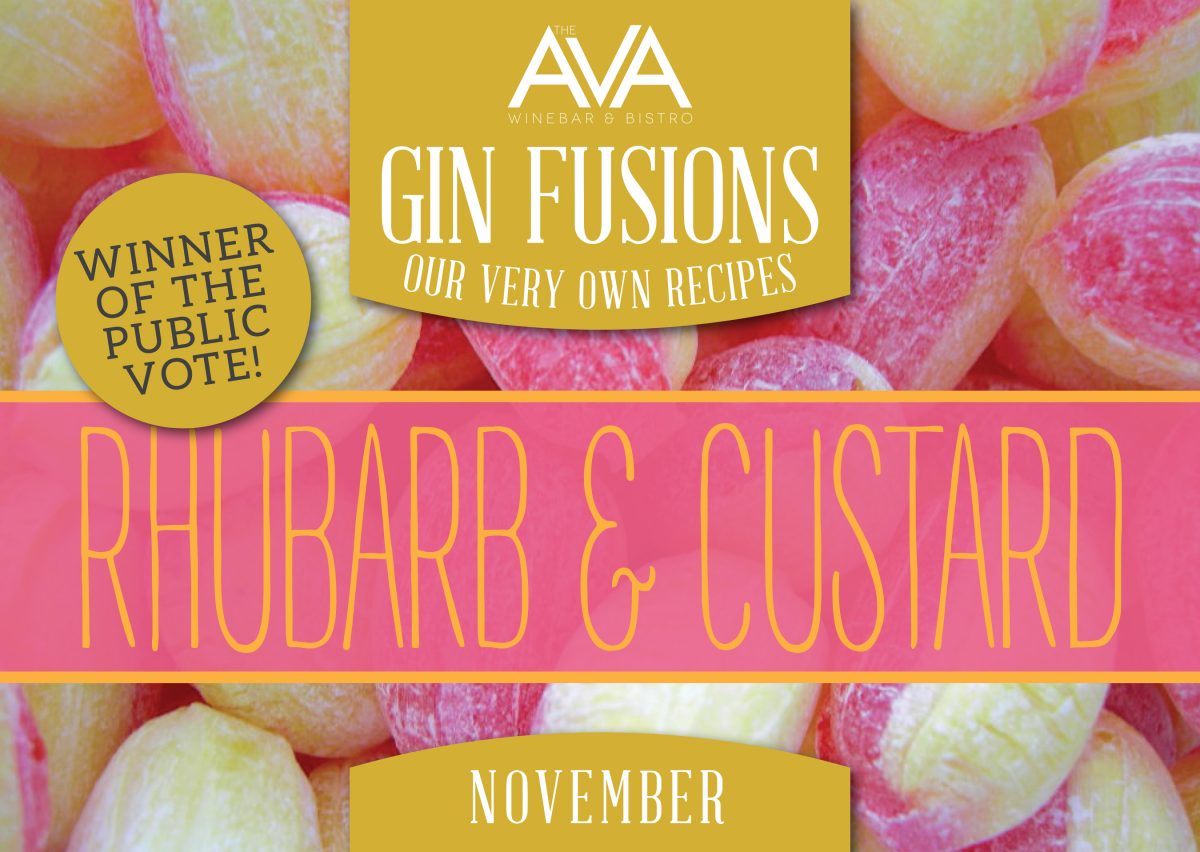 With Facebook WINNER, Nikki Howard, Felipe and The Ava Blogger 
This month we caught up with Facebook winner, Nikki, and created a quick how-to guide for the extremely popular Rhubarb & Custard infused gin!
---
We invited competition winner, Nikki Howard, to The Ava to create her very own bottle of Rhubarb & Custard flavour-infused gin at the beginning of the month. Nikki was behind the winning flavour suggestion which won the Public Vote on Facebook. Read more about the competition in Part 1 here.
Nikki and her Gin Buddy, Amy, arrived, were greeted with prosecco, shown to a table and given a brief run down for the evening. Once ready we invited Nikki and Amy upstairs to the Bistro Kitchen…
---
F

irst thing's first…

We got to ask that burning question; just how had she [Nikki] settled on the flavour suggestion she put forward back in October? Her answer was simple…
"I picked the flavour because it was my favourite sweet."                              – Nikki
The flavour combination proved extremely popular among the Ava Facebook audience
We asked Nikki if she had ever tried infusing gin before, her reply made us laugh,
"Never! I wouldn't want to waste the gin, just incase I didn't make it right."

– Nikki
This is a common misconception among spirit infusing; that it's difficult and wasteful, when in reality, it's actually a really straight forward and not unlike following a recipe for baking a cake.
Felipe explained the infusion process and how you could easily replicate it at home; the process can be slow but only because the gin needs time to soak up all the flavour. You can do this by leaving the gin to sit for up to 2 weeks or by gently heating the mixture for a few hours, adding heat helps to speed up the process.
Top Tip: An easy way to do this without fancy equipment is to leave a tub on a radiator for several hours.
t

he

T

aste

t

est

Before cracking on with how to make the Gin Fusion, Felipe wanted to show Nikki how her flavour could be served alongside different mixers and garnish as well as finally allowing her to taste the gin itself.
We had a bit of a Blue Peter moment when he brought over three glasses and said "So here's what I prepared earlier"…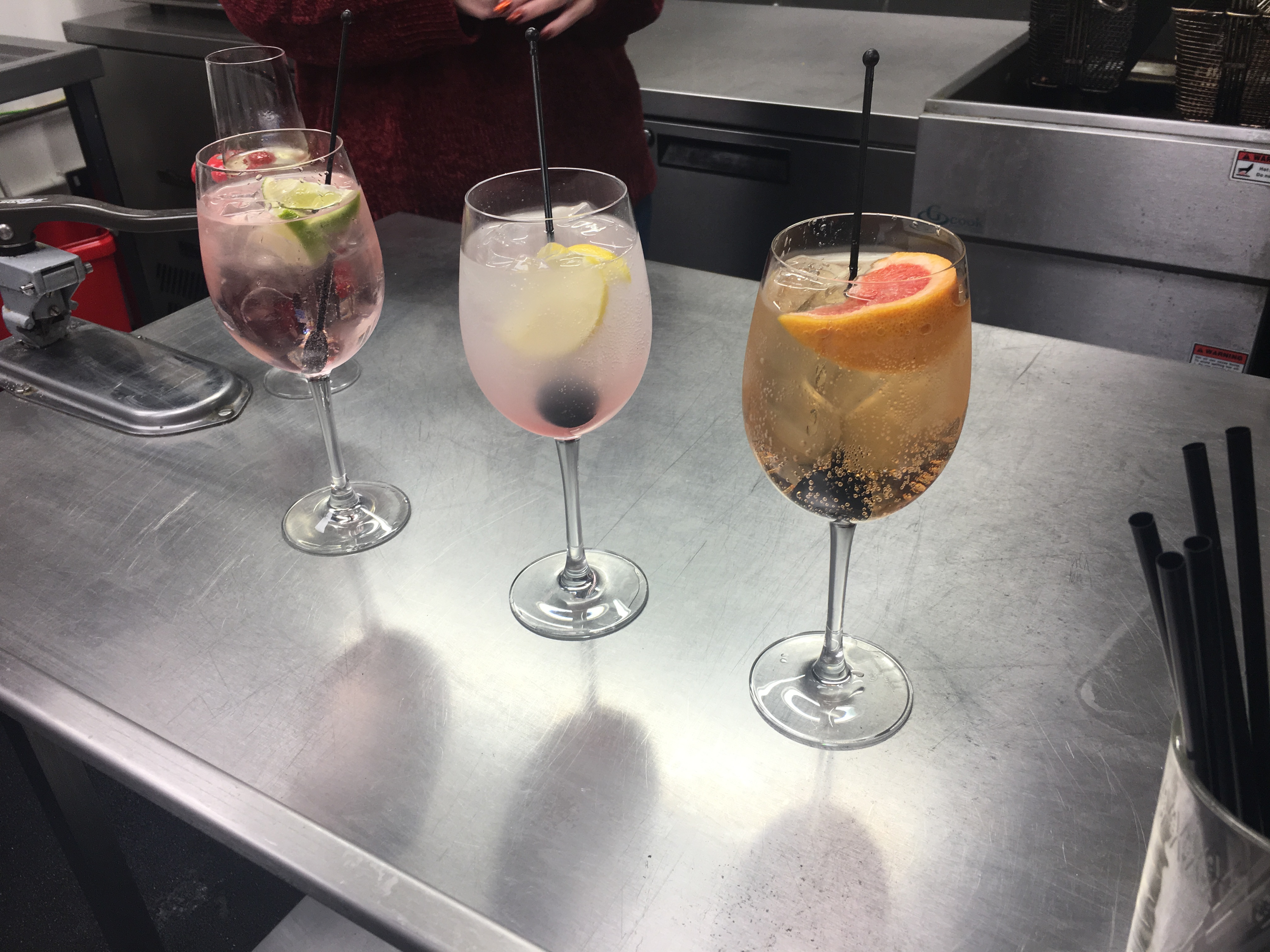 From left to right:
1. Fizzy Apple Juice & Grapefruit
2. Bitter Lemon & Lemon Wedge
3. Tonic Water & Lime
"It's down to personal taste, the gin itself has a sweet flavour already, you can counter act it or work with it, let me know which one you prefer."

– Felipe
Nikki tasted all three, and was stuck between the bitter lemon or fizzy apple serve. Amy hovered over the first glass, and admitted this took her back to her and Nikki's first Gin Tasting in Fealty's, they both shared a giggle. When Amy taste tested she preferred the tonic mixer,
"I can taste the Rhubarb and Custard, the after taste is lovely, it's like you've just had a sweet. I thought it was going to be sickly sweet but I'm pleasantly surprised."                                                                                                                    

 – Amy
T

he

p

rocess

Felipe kept it simple by using a regular coffee cup as his measuring tool, you could tell there was a little bit of shock shared by Nikki and Amy.
"No fancy measuring techniques here, we told you this was easy!"

– Felipe
Felipe works in parts (coffee cups), so for example; 2 parts (cups) this and 1 part (cup) that.
To begin, Felipe asked Nikki to fill one cup Rhubarb and Custard sweets (which we found out equated to a full bag), rinse the sugar from the sweets and then add them to a resealable bag.
Next, add the gin, (a whole bottle of Bombay Sapphire to be precise), the mixture is then vacuum sealed to ensure as much flavour as possible is infused into the gin.
Nikki then sets the water bath to 70 degrees and a timer for 8 hours, once complete the bag is set aside to cool for a further 8 hours.
Nikki didn't need to wait 16 hours for her own bottle, Felipe delivered his second Blue Peter moment of the night, producing a personalised bottle of Bombay Sapphire for Nikki to take home.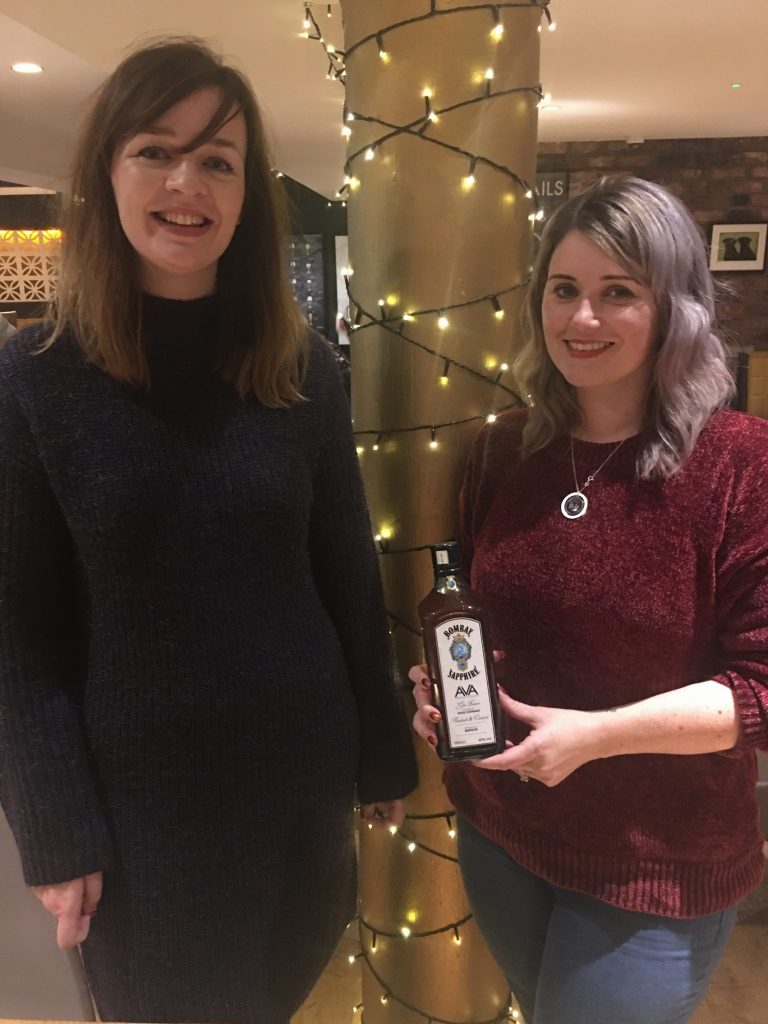 Nikki (left) and Gin Buddy, Amy (right)
The Rhubarb & Custard Gin Fusion has proved extremely popular offline as well as online, the bar team have been making the infusion every 2nd day! Bottles have also been ordered and sold separately.
Not even 24 hours after our evening with Nikki she left us a glowing review on our Facebook page! Thanks Nikki, we're glad you enjoyed your time with us and took not only a bottle of gin home with you but some extra gin knowledge too!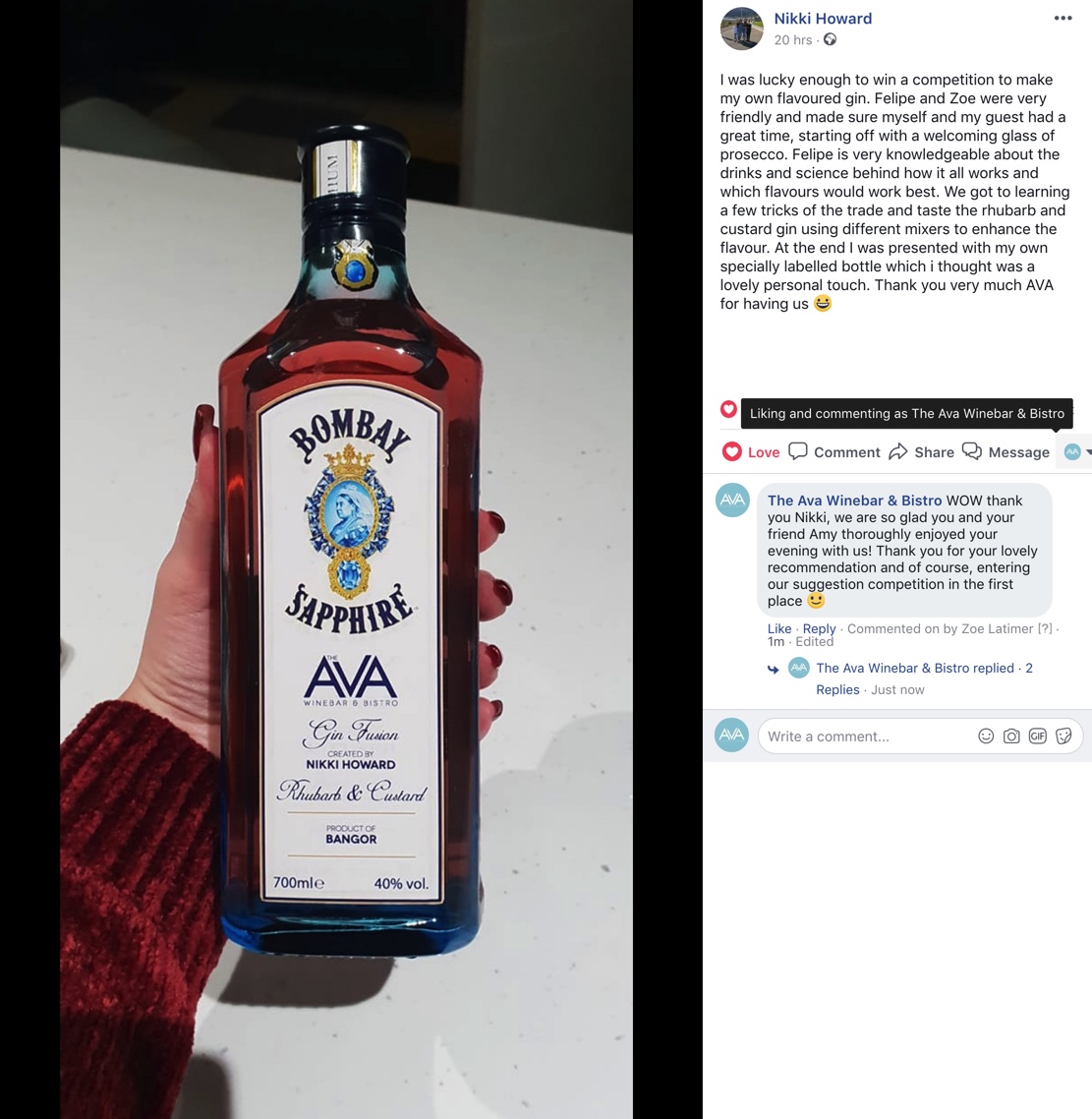 We hope to keep adding to our customer experience. If YOU think we should host a similar competition like this again let us know in the comments below!
If you would like to know how to make your very own Gin Fusion at home visit our previous Gin Fusion Recipe Bog Post here.